The Blues Alley Radio is one of ten stations currently under the umbrella of Scorpion Radio Group, Inc., founded by on-air personality and media entrepreneur, Bob Steele, in 2011. After almost four decades of radio broadcasting in major markets up and down the eastern seaboard, Steele realized the future of his beloved media was shifting towards web-based mobile and smart phone apps.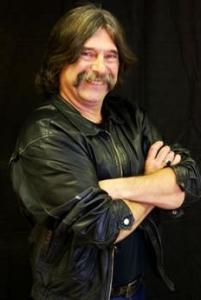 Bob Steele
Almost from the beginning, as Steele laid plans for what was to become Scorpion Radio Group, Inc., He knew he wanted to work with his life-long friend, college roommate and Blues aficionado, Bill "Big Dog" van Elburg, to develop a Blues station playing every style of Blues from the earliest field hollers and work chants to Delta, Memphis, Piedmont, Chicago, Texas, West Coast and everything in between.
Big Dog, a member and President Emeritus of The Natchel' Blues Network, a Norfolk, Virginia based Blues society, collected and up-loaded over ten-thousand songs to establish the original on-air library in order to launch the station in July of 2013. This library has grown since then to include almost twenty-thousand songs and continues to grow with the monthly inclusion of new releases by current Blues artists and bands as well as the addition of old classics and rarities as they are discovered.
Big Dog
While, as stated previously, we play every style of Blues, we also play Blues Rock, Jazz Blues, Gospel Blues (or Blues Gospel) and pride ourselves on going for the really deep cuts. Our de-facto Blues "Bible" is The Grove Press Guide to the Blues by Frank John Hadley. Big Dog's well-worn copy is a first edition printed in 1993. This book is a great resource and has served us well in selecting the music we play and also in validating our own long-held views regarding the nature of Blues music. What we hope to ultimately illustrate and share with our listeners is the interrelatedness between these various musical forms as well as the very personal expression of these by the individual artists.